.:Basics:.
Name: Evie Schnur
Pronunciation: eevee Shner
Nicknames: Eves, Eve,
Age: 21
Gender: Female
Sexual Orientation: Fucking gayyyy
Face Claim: Zoe Kravitz
Previous occupation: Full time college Student and Part Time waitress at Waffle House. In college she drifted from major to major starting with Gender in Media and then switching to Exercise Physiology, and then Environmental Sustainability.
.:Appearance:. 
Height: 5'6
Weight: 120 lbs ish
Description: Evie has light brown skin and dark brown shoulder length hair and also dark brown eyes. She's relatively fit as she makes a point to visit the gym a couple times a week but her stomach is a little flabby because she's constantly cramming junk food in her mouth, particularly milk chocolate m&ms and white chip macadamia nut cookies.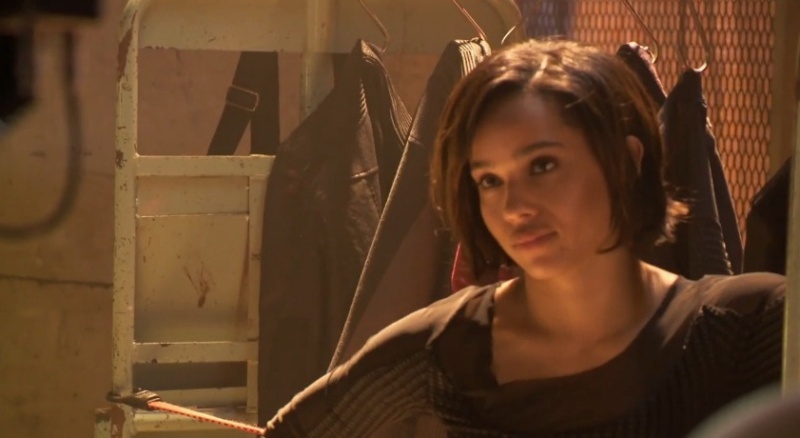 .:Personality:.
Evie has always been indecisive and unsure of herself. Constantly changing her mind and looking to others for advice, she doesn't do well alone. This makes her especially easy to get along with for most people and she can easily blend into many social groups and gets along well with different kinds of people. She uses this ability to help bring conflicts to an end and usually acts as a mediator for disputes.
She's agreeable and easily persuaded into a new way of thinking. She's always open to ideas no matter how far-fetched, and as such may not be very grounded or realistic when exposed to extremists.
Her biggest flaw is her naivety and while she's perfect for moral support as a confidante, she won't be able to see the flaws in your ideas or won't have the heart to tell you its stupid. So while she's supportive, she's not always honest or blunt.
She's a yes-man and a supporting character. As such she prefers to stay out of the lime light.
She is still trying to discover herself and while she is sure that she is gay, she (secretly) likes holding the attention of straight men and will flirt, kiss, bang, etc. She hates the sex but the connection is there. This is the result of a deeply rooted fear of rejection and a need for intimacy but she's too nervous to talk to girls and flirting with boys is only a game.
Summary: Observant, Impressionable, Mediator, Adaptable, Supportive,
Fears: Not fitting in, being the bearer of bad news, rejection.
Mannerisms:
+ Always stands with her hands behind her back, sometimes in an "at ease" position, though she was never in the military.
+ Fleeting/quick greetings and farewells.
Values:
Time - she's too young to die, she hasn't seen or done enough. In dark dies, time is precious and its running out.
Self Awareness - Being awake and alert and alive.
Connection - intimacy, belonging, being a vital element of a team, and most importantly being valued by others
.:Relationships:.
Best Friend:
Crush:
Love:
Favorite Band:
Fucking Gaayyy





Wearing

: http://ak2.polyvoreimg.com/cgi/img-set/cid/83762160/id/TLwWYodE4xGYrSGHNxsv_g/size/y.jpg


Posts

: 14


monies

: 3


Join date

: 2015-01-01




---
Permissions in this forum:
You
cannot
reply to topics in this forum